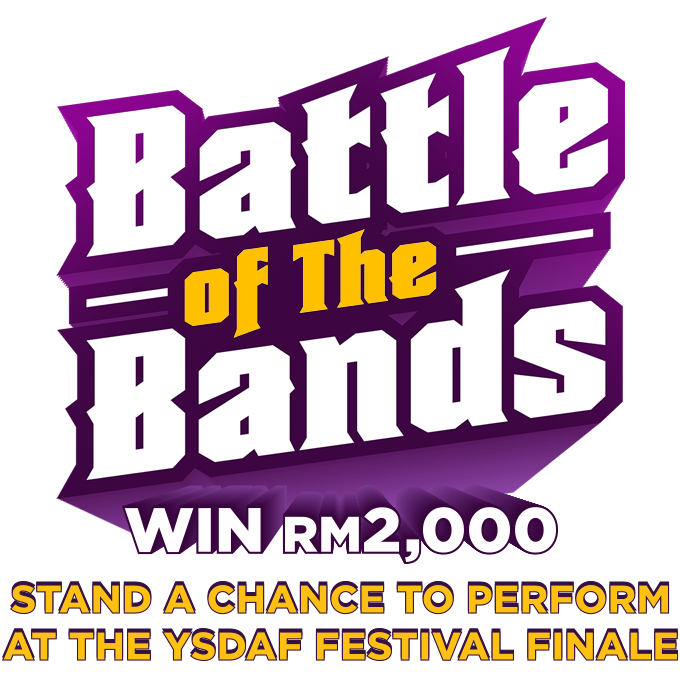 HOW IT WORKS
Are you in a band, have at least two original songs, and want to perform in front of a huge audience, as well as win RM2,000? Yayasan Sime Darby Arts Festival (#YSDAF2018) is hosting a Battle of the Bands this June to find one band to perform at the festival finale on 18 and 19 August 2018 at The Kuala Lumpur Performing Arts Centre (klpac). Join some 450 artistes to celebrate the arts through music, theatre, arts & craft, film and dance.
All you have to do is submit one original song and gather as many public online votes as you can! Those votes along with the judges' votes will determine the Top 8 bands that will perform at the Battle of the Bands event on 29 and 30 June 2018 at Live Fact. Win that, and you'll walk away with the RM2,000 Grand Prize and the privilege of being a YSDAF finale performer!
For more information, check out our terms & conditions.
13 - 25 June 2018
VOTE
Win the judges' hearts, and secure
as many public online votes as possible.
CLOSED
29 - 30 June 2018
WATCH
Watch the top 8 bands perform live and
vote at the event, alongside judges!
LEARN MORE